JOB PLACEMENT SERVICE: EXCLUSIVELY FOR WTI GRADUATES
The 7 Best Places to Teach English in Europe

Do you dream of living and teaching English in Europe? Europe undoubtedly has something to offer for everybody. Researching the 44 countries, and deciding which one to call home, is not easy. This post lists the best places to teach English in Europe and explains the specifics of the regional TEFL job markets.
So you've decided you want to teach abroad, and you can't imagine going anywhere but Europe. Maybe you feel compelled by Italian art, Spanish culture, or German history. Maybe you've always had a thing for French cuisine or Dutch architecture. Or maybe you want to move somewhere a bit more off-the-beaten-path, like Poland or the Czech Republic.
In this article, we'll delve into the best countries to teach English in Europe, and give you plenty of reasons to hop on a plane and jet off tomorrow.
The Requirements for Visas and Work Permits

Before you get totally swept away by the excitement of teaching English in Europe, you have to figure out how to work there legally. If you're an EU citizen, then you have the easiest situation possible. The EU's open borders allow you to move and work freely between the countries. Canadians and Australians have the option of getting a working holiday visa to teach in most countries in Europe. However, if you're from the United States, then the process is a bit more complicated.
The visa situation and requirements are different in each country, so we'll cover the details more extensively in each section. Generally, as an English teacher, you will need a Bachelor's degree, a TEFL certification, and ideally some teaching experience to be competitive in the job market.
If you have the hustling spirit, I'm sure you can figure out a way to land a job in some mom and pop school in Italy or Spain without a degree and get paid under the table while working on a tourist visa. Just know while some teachers do that, it's safer and smarter to get a legal visa whenever possible.
1. Czech Republic
One of the fastest-growing markets for teaching English in Europe, the Czech Republic is full of charming architecture, hearty cuisine, and world-renowned beer. The country's central location within the continent allows for excellent travel and business opportunities, which has only increased the recent demand for English language skills.
The cost of living is very affordable compared to most of Western Europe, especially outside of the capital of Prague. Most teachers work at language schools, summer camps, and as private tutors. As a teacher, you can expect to earn $700-1,100 per month, which is typically enough to live comfortably.
One of the best parts of teaching English in the Czech Republic is the ease with which you can obtain a work visa. In most cases, you'll enter the country on a tourist visa, which you can use to travel around Europe and remains valid for up to 90 days.
Once in-country, you can pursue the Zivno Business Visa or Standard Work Visa. The former is available by application through the government and allows teachers to work at any school in the country. It typically takes 2-3 months to process the Zivno, so it's best to apply as soon as you arrive. The Standard Work Visa is less common because it requires more paperwork, expenses, and a diploma that is both apostilled and translated into Czech.
2. Germany
Known for its rich history, cultural traditions, modern cities, and stunning natural beauty, many people consider Germany to be a country that has it all. Its central location and bustling economy make it a natural choice as one of the best places to teach English in Europe. The job market is solid, and many adult students enroll in Business English classes to improve their competitiveness.
The average monthly salary for teachers in Germany is $900-2,200, which is comparable to the cost of living. Teachers tend to work at language schools and can supplement their income by offering private lessons or working at summer camps.
In the words of Jacob Arther, an American teaching in Berlin, "Germany as a whole is a very pleasant place to live, with a myriad of small cities, and local cultural differences. On the whole, the beer is good and plentiful, the food is hearty, the cities are clean, crime is low, social benefits are high, and the people are bit direct and reserved but friendly once you get to know them."
Like in the Czech Republic, it can take 2-3 months to process a work visa in Germany. As soon as you arrive, you should set out to find a job and a permanent residence, because you'll need to apply for both a residency permit and a work visa. Your job will provide you with a "letter of intent", which you will need to submit as part of your application. Ideally, your school will offer to help you throughout this process – if not, it will be much easier if you speak some German or can use a German friend as your translator!
3. France
France epitomizes effortless sophistication and charm, so it's no surprise that the country attracts a steady stream of English teachers. The quality of life is high, and French people are known for valuing their health, happiness, and free time. Although major cities like Paris and Marseille can be notoriously expensive, it's possible to live quite modestly if you put your mind to it – especially in the smaller towns. The average pay is between $900-2,000 per month, and most teachers recommend $1,100 or more to be comfortable.
If you're an American, it's very unlikely that you'll get a work visa to teach English in France unless you apply for the government-run TAPIF program. The TAPIF program is part of the French Ministry of Education and the Cultural Services of The French Embassy and allows Americans between ages 20-35 to teach in French public schools for 7-month contracts between October and April. Teachers through the program typically work 12 hours per week and receive a living stipend plus health insurance. Although the stipend is not enough to live on by itself, you can pay your salary with private lessons.
The only other viable option to teach in France is by taking French language courses with a student visa. With the student visa, you'll take about 20 hours of language classes per week, and teach privately or at a school for another 20 hours. This option is not ideal because the courses may cost more money than you're actually able to earn as a teacher.
4. Italy
There's a reason Italy is one of the most popular destinations in Europe to travel and teach. The climate is pleasant, the cities are fascinating, the natural landscape is gorgeous, the food is to die for…and the list goes on. In fact, so many people want to teach in Italy that some places, like Florence, are oversaturated. To have a better chance of finding work, consider moving to larger cities like Rome or Milan, or smaller towns where there are fewer teachers.
The salary for teaching English in Italy ranges from $1,100-1,850 per month. Depending on where you live and how strict you are with your budget, it may be possible to live for less and pocket a bit of saving each month.
Italy has a laundry list of wonderful qualities, but its main flaw is the lack of visa options to legally teach in the country. Although it's next to impossible to get a work visa, you can still apply for a student visa and use it to stay in the country. As a student visa in France, you can use it to teach for 20 hours per week. Due to the visa shortage, some people choose to live and teach in Italy under the table. While the situation is not ideal, the demand for English teachers is often great enough that language institutions will hire them without visas.
Most teachers, whether they have a visa or not, work at language schools, summer camps, and private tutors. One way to avoid the visa headache is to enter Italy on a tourist visa and teach at a summer camp, as long as you don't overstay the 90-day limit.
5. Netherlands
If you've been to the Netherlands before, one of the first things you may have noticed is how well the locals speak English. The Dutch learn English in school from a very young age, so the demand for English teachers is not nearly as high as in other countries. If you decide to welcome the challenge and move to the Netherlands, it would undoubtedly be one of the best places to teach English in Europe.
The Netherlands has an extremely high standard of living, and ranks well on nearly every index – from education to health, to happiness. Bike-lovers will want to book a plane ticket immediately; not only does the Netherlands have more bikes than people, but it also boasts the safest cycling conditions in the world.
All of the Netherlands' fantastic qualities do come with a cost – in the form of very high taxes and expensive accommodation. Teachers generally receive a good salary, although the exact amount depends on qualifications and experience. It's highly recommended to obtain a job offer before moving to the Netherlands since it's part of the work visa application. Although American teachers need to compete with EU citizens in the job market, finding work is not impossible for those who are willing to put in time and effort.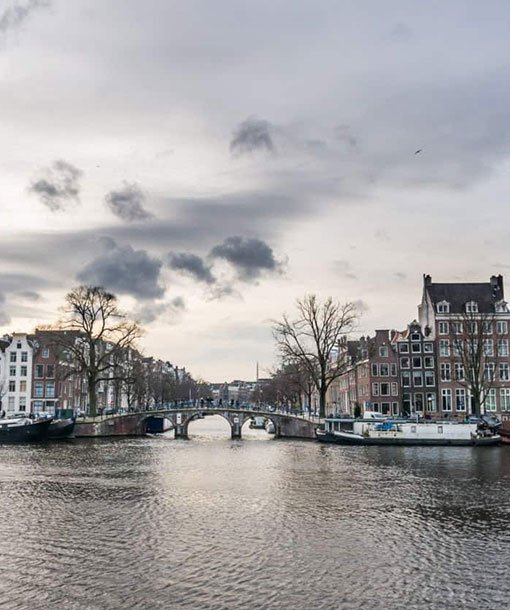 6. Poland
Full of history, cultural activities, and great public transportation, Poland is a gem in Eastern Europe. The country has an excellent job market for English teachers, and the cost of living is quite reasonable compared to Western Europe. Saving money on a teaching salary is actually possible in Poland, unlike most other countries in the region.
Teachers typically work in language schools for $750-1,050 per month, and they can pocket any additional income from private tutoring or summer camps as savings. The students tend to be adults hoping to improve their competitiveness in the workforce, as well as school-age children.
In Poland, it's possible to get a work visa if you're sponsored by a language school or institution. Some teachers have had luck finding jobs online before arrival, which helps speed up the visa process. If not, it's certainly possible to enter the country on a tourist visa and apply for jobs in-person before applying for a visa.
7. Spain
As the land of tapas, sangria, and siestas, Spain attracts tons of English teachers every year. The country is incredibly diverse in terms of culture, activities, food, and landscapes. The demand for English teachers is high, and it's possible to live comfortably on a monthly salary between $1,250-1,850.
The majority of teaching jobs are based in Madrid and Barcelona, but it's fairly easy to find work all over the country. Most teachers work 20-25 hours per week, which leaves plenty of time to explore the beautiful country and beyond.
The best way to teach English in Spain is to apply to the North American Language and Culture Assistants Program operated through the Spanish Ministry of Education. Every year, the program places 2,500 English teachers throughout the country to work in public schools as language assistants. Teachers are paid a living stipend (which they can supplement with private lessons) and receive health insurance. They receive a long-stay visa to live and work in Spain, and the program lasts from late September to late May.
It's also common for people to forgo the program and teach English in Spain under the table. Similar to the situation in Italy, the demand for teachers is so high that some language institutions will hire them without work visas.
Where to Teach English in Europe?

All of these places to teach English in Europe have high standards of living, quality job opportunities, fascinating cultures, and easy options for travel around the continent. Each has its pros and cons (after all, nothing is perfect), although they're considered the best countries to teach English in Europe for a reason.
Don't have a degree? Are you a non-native speaker? We can also help you find a job, as there are still many countries out there that don't require a degree or to be a native speaker.
Fill in the information below and we will get back to you with a suitable job within days of your application.
pre-departure information and advice
work visa/permit sponsorship
1000 usd to 3500 usd monthly salary
safe and affordable accommodation assistance
24/7 on the ground assistance
WTI advanced and professional course graduates
Native English and non native speakers welcome
Bachelor degree or higher/not required for all jobs
between 21 and 60 years old
DON'T HAVE A TEFL/TESOL CERTIFICATION!

We provide Accredited TEFL courses
ARE YOU READY TO FIND THE JOB OF YOUR DREAMS?
Please upload the following documents to start you application and we will get back to you as soon as possible.
DISCOVER OTHER JOB PLACEMENTS